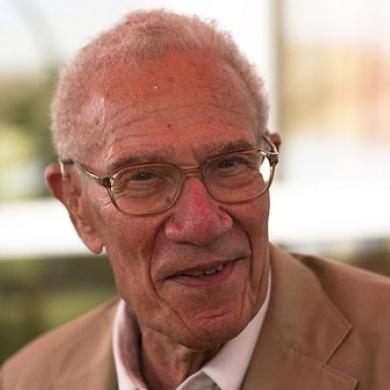 The Work Goes On
Robert Solow on growing up in Brooklyn, fighting Nazis, and everything that came after
In a wide-ranging interview, Robert Solow joins the podcast to talk about the origins of his remarkable career, covering everything from his being "a child of the Great Depression" to leaving Harvard to fight in WWII to his time serving in President Kennedy's Council of Economic Advisors.
In this episode, Solow and Ashenfelter discuss:
How Solow's childhood during the Great Depression shaped his thinking about the economy. 

Why Solow left Harvard to enlist in the Army and do "the most important thing that would happen" for the rest of his life: defeating Hitler and the Nazis.

Why Solow is glad he agreed to work for the White House Council of Economic Advisors after originally thinking he needed a job in Washington like he "needed a hole in the head."

Solow's sense of humor. "From an early age, I've had the feeling that the world was nuts," he said. "Things happened that you couldn't possibly explain in any intelligible way, and things strike me as amusing, as funny."

What inspired Solow's interest in the study of labor markets, and what similarities exist between the post-WW2 economy and the post-Covid economy.
Solow earned his PhD from Harvard University and originally joined the faculty at MIT in 1949. He was awarded the John Bates Clark medal in 1961, the Nobel Prize in Economic Sciences in 1987, and the Presidential Medal of Freedom in 2014. "The Work Goes On"—a podcast produced as Princeton's Industrial Relations Section (IR Section) celebrates its 100th anniversary—is an oral history of industrial relations and labor economics hosted by Princeton's Orley Ashenfelter.
—
References:
Solow, Robert M. "Growth Theory: An Exposition."  2nd ed. New York: Oxford University Press, 2000.
Solow, Robert M. "Monopolistic Competition and Macroeconomic Theory." Cambridge: Cambridge University Press, 1998.
Solow, Robert M. "The Labor Market as a Social Institution." Cambridge: B. Blackwell, 1990.