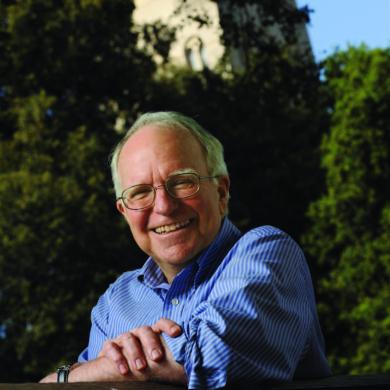 The Work Goes On
Bob Hall on his role in the Brookings Papers, the NBER Business Cycle Dating committee, and more
Bob Hall on his interest in policy, and the origins of the Brookings Papers and the NBER Business Cycle Dating committee
Bob Hall, the McNeil Joint Hoover Senior Fellow and Professor of Economics at Stanford University, joins the podcast to discuss how an interest in policy inspired him to study economics and his many contributions to applied economics.
In this episode, Hall and Ashenfelter discuss:
Bob Hall earned his Ph.D. at MIT in 1967. "The Work Goes On"—a podcast produced as Princeton's Industrial Relations Section (IR Section) celebrates its 100th anniversary—is an oral history of industrial relations and labor economics hosted by Princeton's Orley Ashenfelter.
—
References:
Hall, Robert E., and Marc Lieberman. "Microeconomics: Principles & Applications." 6th ed. Mason, OH: South-Western Cengage Learning, 2013.


 

Hall, Robert E. "Forward-Looking Decision Making: Dynamic-Programming Models Applied to Health, Risk, Employment, and Financial Stability." Princeton, N.J.: Princeton University Press, 2010.


 

Hall, Robert E., and Alvin Rabushka. "The Flat Tax." 2nd ed. Stanford, CA: Hoover Institution Press, 2007.